LEGIT - a beautiful legit cheat with a very simple setup of visuals and an aimbot, even a small child can cope.
Beautiful indicators, trails and chams, initially there was work with Osiris, the visual part and the aimbot were altered beyond recognition, they left this menu as it looks pretty good and you should not judge by the first viewing of the cheat menu, but rather play with it.
Please note that this is the first release of the cheat and in the future I will implement it more and more.
Trails + Chinese Hat: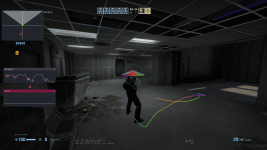 chamses + boxes: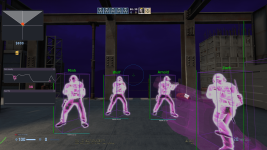 You must be registered for see links

| VIRUSTOTAL

- AIMBOT:
A good aimbot, it also has automatic recoil control, a smart trigger bot and a Backtrack function.
You can adjust the smoothness of the aimbot and making it from light and smooth, to fast fast and clear.
You can choose which parts of the enemy's body the aimbot will be aimed at, to choose the HEAD, CHEST and the NEAREST HITBOX near the sight.
- VISUALS:
Beautiful visuals, they include 2D and 3D boxes, the DLIGHT function, which creates light under your opponent's feet, which shimmers on the walls, flags that will be written near the enemy's skull, styles of champs, to choose FLAT, GENERIC, GLOW, METALLIC, PEARLESCENT, these champs can be put on your hands, weapons in hands, on the opponent's model, on the backtrack. Also, there is a GLOW function in the cheat, it will illuminate the enemy model at the borders of the model. Even in the cheat, you can change the color of the text during the flight of the grenade (for each separately), esp for weapons, grenades, bombs that lie on the floor. The ability to change the color of Molotov's fire and the color of the blood of opponents and allies. The ability to make the smoke more transparent and the Molotov flare radius, similarly with the smoke.
- MISC:
The ability to change the skybox to absolutely any of the games, the ability to change the color of this skybox and also the color of the map, shooting textures and so on, the smart zeus range shows how far they can be shot and also the sound after the shot, the possibility of a third-person view and a warning about enemies with Zeus nearby. So are the usual functions like bunnyhop, autostrafe, beautiful 3D + RESIZE hitmarkers. You can also include bomb timer, plot fps, plot velocity, 2d radar, brief information about the server and client, trails from grenades, predicate grenades, beautiful trails, to choose rainbow line, beam and splash (more beautiful splash or rainbow line), a beautiful rainbow cap on a model from niksvara, tracers from weapons and client, server impacts.
- OTHER:
It is possible to anhook the cheat by the bind, the cheat will be turned off during the game.
It is possible to open the console of the cheat itself, more beautiful than in the game.
It is possible to change the button that opens the cheat menu.
It is possible to change the background when opening the menu.
It is possible to make a menu of different colors, to choose from: cherry, dark, classic, white.
The ability to change the size of the menu by dragging it to the side.




You must be registered for see links


The folder for configs is located in Documents, has the name legit
Full path: Documents\legit\configs


​