VirusTotal.com Link
:
Analyze suspicious files to detect types of malware.
Spankerfield is internal Battlefield 4 cheat made by nloginov, unfortunately he is not registered on this forum, so I can't ping him
This cheat is able to byppas BF4 anticheats (Punkbuster and Fairfight), author mentions to use
VMP
or
Themida
.
DLL below was already virtualized by VMP, so you can download it and play. Author also mention to use
Xenos DLL injector
!
Ty
Plisskien
for compilation it, and virtualization
Menu: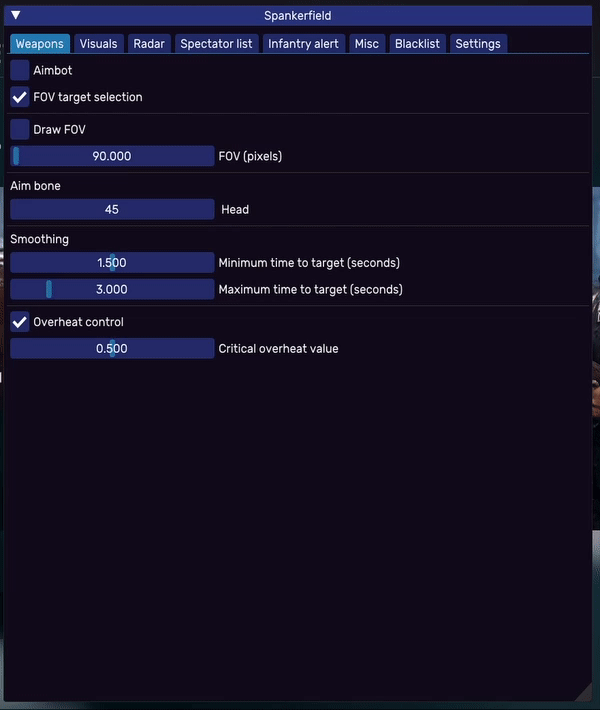 Features:
Aimbot
Closest to crosshair target selection
FOV target selection
Draw FOV
Customizable FOV
Customizable hitbox selection (212 bones)
Minimum time to target (seconds)
Maximum time to target (seconds)
Alerts
Nearby enemy alert
Count infantry vehicles
Customizable distance
Customizable text color
Vehicles
Overheat control
Overheat critical value
ESP
Draw ESP
Draw teammates
Customizable ESP distance
Visible check
Different box styles, total of 6
Draw box
Draw health
Draw distance
Draw explosives
Skeleton
Radar
Draw teammates
Customizable X-axis
Customizable Y-axis
Customizable distance
Customizable colors
Spectator list
Customizable X-axis
Customizable Y-axis
Spot-hack
Auto-spot
Unspot when OBS is active
Config
Save
Load
Auto load on startup
Blacklist
Draw blacklisted players
Add player to blacklist
Delete player from blacklist
Misc
G3Log logging
Thread pool
Logs and backup logs saved to appdata
Unload at runtime
SourceCode C++
You must be registered for see links
Download virtualized DLL ready to play!
You must be registered for see links