OS Requirements

Windows 10, Windows 11
Hardware Requirements

Processor: Intel & AMD, Video card: Nvidia & AMD
OC:Windows 10, Windows 11
CPU: Amd & Intel.
GPU: NVidia & AMD.
Platform: Steam, Non-Steam(Pirate)
Status:

Undetected

.
When you buy a Phoenix Macros for Rust, we also give you a Phoenix Spoofer for free.
If you are looking for a safe Rust software, then you have found it in this thread. Phoenix Rust Macro will break your stereotypes about inconvenient macros and help you kill more players without risking getting banned in the game. In addition, if you have already received an HWID ban or are afraid to get it, then our script comes with an excellent Phoenix Spoofer, which does an excellent job of bypassing the HWID block in rust and other games protected by EAC and BE anti-cheats. Unlike old software with macros, our script is very convenient and features through a convenient and stylish menu. Moreover, in addition to anti-recoil, the macro includes other nice features. So do not waste time and try our product in action!
​
Features:
Weapon recoil control:
Enable

Weapon

Scopes

Barrel

Control X / Y

Legit Mode

Hipfire Mode

Rapid Fire

Big Clip

Support for all types of firearms and not only weapons in the game

Works with all attachments for guns

Auto-detect weapons in your hands

Auto-detection of modules on weapons in your hands

Auto detection of sights on weapons

Randomization

Control Table

Fast-taps
Additional scripts:
Auto Upgrade

Anti Afk

Zoom Hack

Crosshair

Spoofer
Additional information:
Sound

Config

Hide Mode

Binds

Customization

Works both in the licensed Steam version of the game and on pirated versions

The program automatically reads your game settings (sensu, fov, etc.)

The software is not a cheat, which makes its use as safe as possible for your account

The program will be regularly updated, it is also possible to expand the list of functions in the future

Automatic weapon detection

Cloud CFG

Overlay

Recoil Smoothing System

Fast Choose

Window mode
List of supported weapons:
AK47

LR300

MP5A4

Thompson

Custom SMG

HMLMG

M39

SAR

M249

Revolver

P250

Python

M92

EOKA
List of supported modules:
Macro supports all sights in the game

Holosight

Simple Handmade Sight

8x Zoom Scope

16x Zoom Scope

The script supports all barrel modifications for firearms

Silencer

Muzzle Boost

Muzzle Brake

Extended Magazine
Screenshots: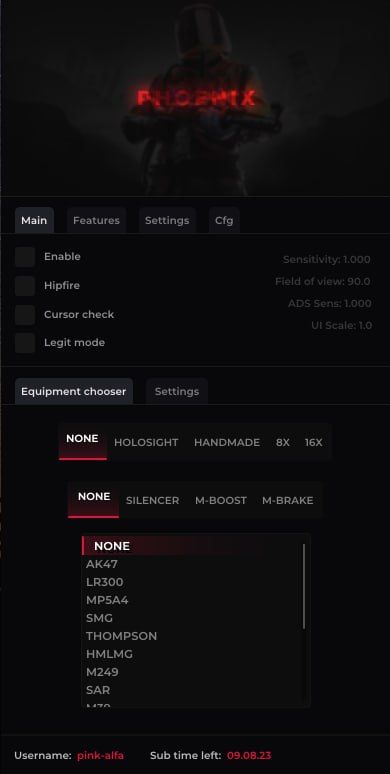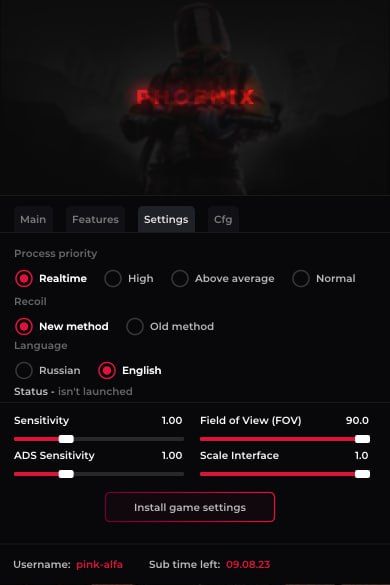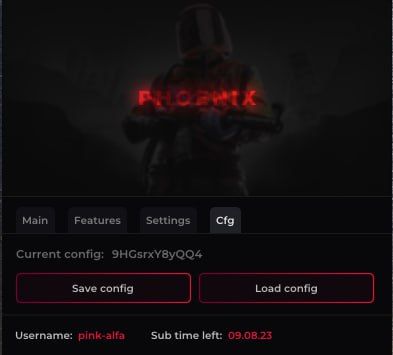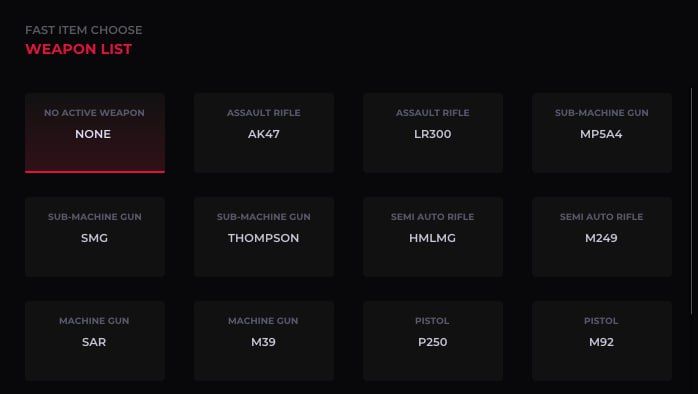 1 Day - $1.5
7 Days - $6.5
30 Days - $11.5

Buy: On Our Website
Our Telegram Channel:
https://t.me/phoenix_satano